As part of our Empowering Women in Construction podcast series, we're broadcasting stories from amazing women across the country. On this week's episode, we spoke to Jessy Gomes.
Jessy is an award-winning Occupational Safety, Health and Wellbeing Executive, and is a Corporate & TEDx Speaker. Working in Health and Safety since 2012, she is an advocate for making construction an inclusive and diverse industry, and has also co-host on the 'New Dimensions' Podcast.
Her path through construction has recently changed, with one of her main focuses now being to help make the industry more inclusive for women.
"I've always been interested in technology, and what new technology can offer to construction," says Jessy.
"But it (advocating for inclusivity) didn't come organically for me. I had a lot of fun working for male contractors before, and being a consultant in construction.
"At the end of 2019 I had a baby, and things didn't really go very well when I came back into the workplace. The experience was a paradigm shift for me, and I ended up leaving the organisation due to returning from maternity and not being understood.
"I think that maternity is something women do for suffer at work, and we need to promote advocacy around that."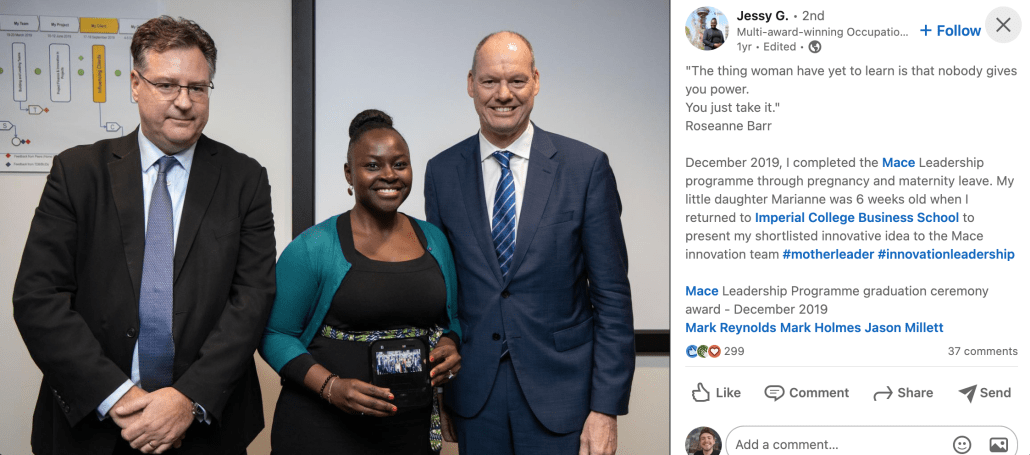 From her own experience, Jessy has noticed that women in the industry can struggle, and she attributes this to a lack of female representation.
"When you look at the construction demographic, we have 80 to 90 percent men, and predominately white men," says Jessy.
"You have ten to thirteen percent women, and it's even lower actually on site at one percent.
"It's down to society, and the patriarchal way the industry is organised.
"Unfortunately, construction is one of those industries that is male dominated, and women are ultimately penalised.
"Often mothers have the burden of being carers, and they're overworked and burned out. We need a shift in the way we operate, and be flexible in how we treat people…
"We have this opportunity (after covid), to start from a blank sheet of paper, and grow.
"We have to understand that we have really poor representation of women at a leadership level."
Jessy also believes that construction companies also need to take responsibility, and provide progression opportunities for female employees.

"Women want to go for these jobs, but we're not given opportunities. And in turn, we often shy away from difficult conversations. We need to emphasise certain skills; negotiation skills," says Jessy.
"Having a sponsor in the workplace should be compulsory. You can work your 'A' off, but if you don't have the right sponsors, or the right support or mentoring, you're not going anyway.
"I'm living proof. Today I'm not scared to say… for years I wasn't' going anywhere. I was providing my work, and everyone was happy, the client was happy, the organisation was happy.
"I was the only one unhappy. I should have made the move, had the difficult conversation. I should have moved on when the organisation wasn't valuing me. What did I do? I stayed, thinking things would improve.
"Anyone listening (reading) today, if you feel you are not valued, don't gaslight yourself. Withdraw yourself, things will only get worse."
You can listen to the full episode here: