We are growing together – BUD November Newsletter
As we say goodbye to the month of November, we look ahead to the festive season!
We are sharing all things BUD and giving a recap into the month of December and what that looks like for our team. Each day we are changing the world, one positive step at a time!
You can also follow us on Twitter, Facebook, LinkedIn and Instagram.
Team Day at BUD
We had a fantastic 2-day Team retreat and focused on our strengths and the importance of self-leadership while facing our fears. It was truly wonderful and incredible seeing how we all brought our superpowers together and rediscovered ourselves but most importantly, each other.
A word to summarise the Team Day is Siyanda which means We are Growing Together in Zulu.
We are Hiring! 🎉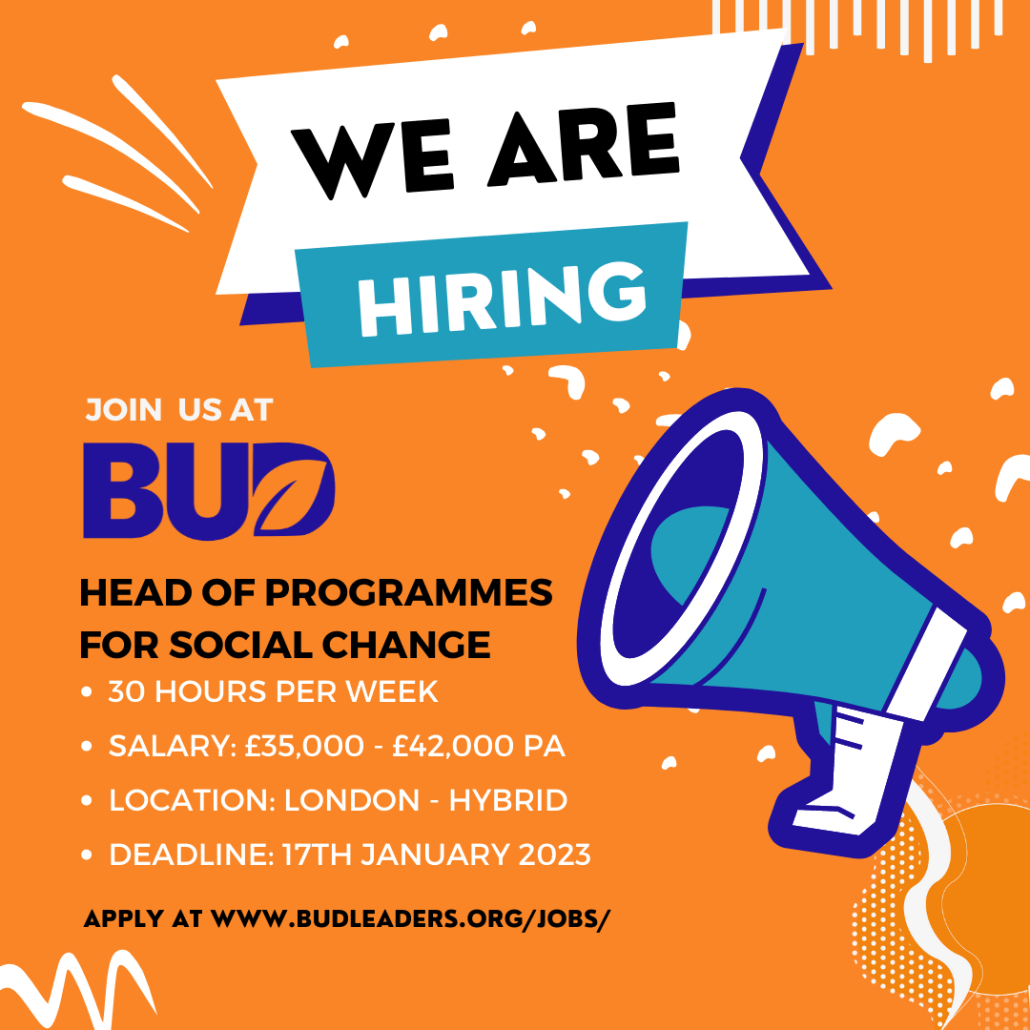 🎉We're #hiring! 🎉

We are currently looking for an experienced and resourceful changemaker to lead our social change programmes. Plus, it's a #fourdayworkweek!

The ideal candidate will be a natural born leader, with a depth and breadth of skills from leadership capabilities, through to strong communication and facilitation skills. If that is you, apply today!

Please send your CV with a Cover Letter to hello@budleaders.org!
BLOC LIVE IGNITE 2023 🔥
Calling all black-led organisations for change!
Set goals and GROW! ✅
Setting goals can be challenging; or even knowing where to start.
Our innovative peer-to-peer skills-sharing event will enable you to develop your enterprise: set goals, gain skills and grow. Register now for IGNITE! 🔥
Register here: https://www.eventbrite.co.uk/e/ignite-tickets-468490145637
Christmas Closure at BUD 🎄
We will be closed from the 21st of December and will be back on the 4th of January 2023! But why wait that long when you can follow us on us Twitter, Facebook, LinkedIn and Instagram! That is the fastest and easiest way to be updated on everything BUD!
We hope you have a fantastic Christmas and New Year! keep changing the world! – G and the Bud Team x
If you have any questions, please email us on hello@budleaders.org, or visit our website at www.budleaders.org