Across the country, there are thousands of community leaders working relentlessly to create a better future for those around them.
Community Leaders in Motion (aka CLiM), is a 2-year collaboration with the social change agency, funded by Impact on Urban Health.
We want to provide practical and financial help and support to community-led groups across Lambeth and Southwark, connecting amazing people with the funding and opportunities so often inaccessible or unavailable to them.
One such person is Michelle Killington, a long-time resident of Brixton, and someone who has dedicated her life to supporting her community.
To briefly summarise the work that Michelle has done over her more than fifty years living in Brixton would take two articles. As examples, she runs a project supporting people with dementia using music, through her work with Vinyl Memories.
She manages and puts on musical performances for local up-and-coming artists, such as helping create the 'Hear My Voice' concert, in colaboration with We Are Youth Futures, which you can watch below.
She runs self-defence boxing classes for women, so they can feel safer walking alone and empowered in their day-to-day.
It became obvious very quickly that, for Michelle, anything that would improve life for those within her community was something that she quickly became passionate about.
"Because we're grassroots, and because we're on the ground, and we live that life with the people, we are best met to know what they need." says Michelle.
"If you live in the community, it is easier to know how to help."
"I know the needs of the young people, and I know the needs of the community. A chief executive of a big charity can't know what is important. It's so important that people like me are around the table, and be able to share what needs to be done."
With an almost a billion-pound decline in funding for youth services by local authorities across England and Wales (YMCA), a lot of the work Michelle does is to support young people in achieving their aspirations, and helping them access opportunities not gifted to them by traditional support structures.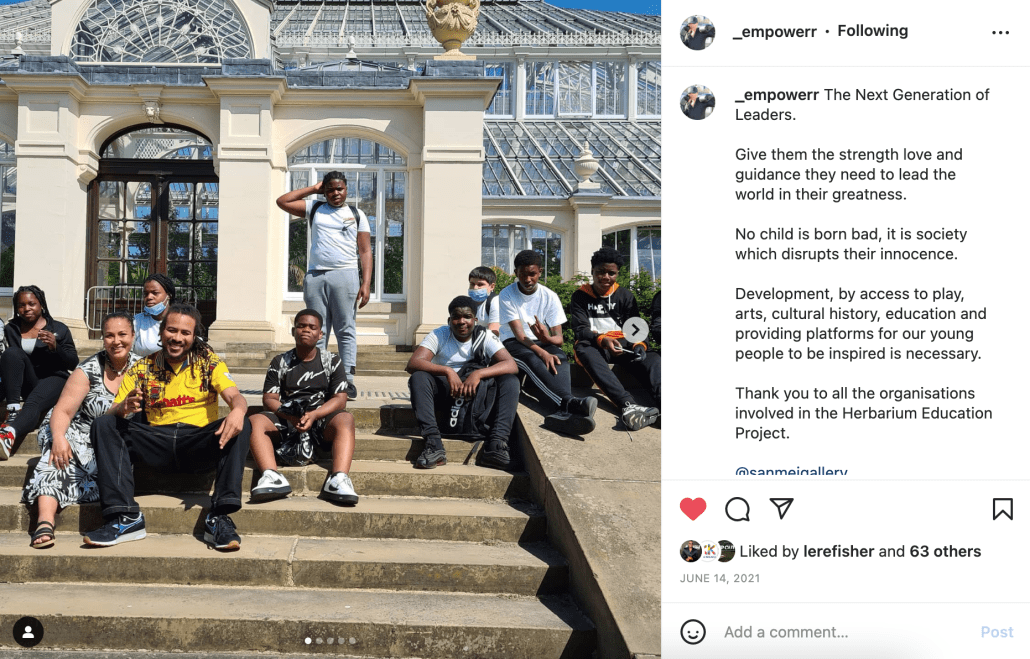 "They (young people) are not challenging, they're just bored of education," says Michelle.
"A lot of young people, to me, feel like they're being prepared ready for prison. They're always getting punishment; excluded, detentions.
"If that's how they're used to being treated, they're going to do what is expected to do.
"That is what is great about my projects. I don't just stick to the norm; I take them to different places; I show them different lives.
"I feel that if you show them love and care, and don't judge who they are, it's possible for anyone to change."
Michelle is developing her Artist Development Project (ADP) alongside We Are Youth Futures, and wants to ultimately develop the programme into something bigger than just herself.
"You don't have to be a charity, you don't have to be a CIC, you can be an individual (through CLiM). And you're also learning, whilst getting the opportunity to get some funding.
"A lot of community organisations fail because they don't have access to support systems; we're ultimately learning on the job."
"My ambition is to be able to supervise lots of projects, and be a strategist. I want to create a management team, where I design the programme, and I can give young people the opportunity to deliver those programmes. I want to empower others around me."
One story Michelle told me highlights the difference work like hers can have on someone's life.
"I was mentoring a young person, who is 14 years old. I met him at a residential. He was really into his music, and all the residential we spent listening to beats he'd made on his phone.  
"Because of his issues communicating, he finds it difficult to express himself, but through his music, he's been able to grow as a person.
"As part of the ADP programme, I've been able to help master and release his music, which is going on Spotify through the Dogon Records label. It's been so good for his confidence, and he's grown so much as a person. 
"Him being able to connect with musicians, and through this family we've created, he's only going to keep growing, and that makes me very happy."
If you'd like to learn more about Community Leaders in Motion, and to read future articles, you can stay in the loop on our blog here.