BUD has recently supported BLAM, to deliver a facilitation workshop to support them through systems change.
BLAM, or Black Learning Achievement and Mental Health, formally began as a community outreach event in the spring of 2017. They are focused on giving young people a more comprehensive and diverse education, and making sure Black history is properly represented in curriculums nationwide.
They run a variety of different projects, such as the Grounded Project, where they work with primary and secondary schools across London, to ensure young people get an authentic understanding of Black-British grass roots activism and history.
They also offer free Black history resources, school exclusion appeal services for Black British students, and history lessons in summer for children aged 7-10, amongst a variety of other projects.
With the Black Lives Matter movement growing larger than ever, and it being Black History Month, the BLAM project wanted to identify new methods to invigorate employees, and empower people within the organisation.
One of the main themes BUD tackled was change within BLAM, and how to deal with it. Facilitator Lere Fisher described change as: "providing a better service for your customers. That's what business and life should always be about. We change in life as humans, we evolve, we grow.
"And the reason for that is to become better people. I always say we have a .com next to your name. You are a business. We need to change to create a better service; if we change we all become benefactors."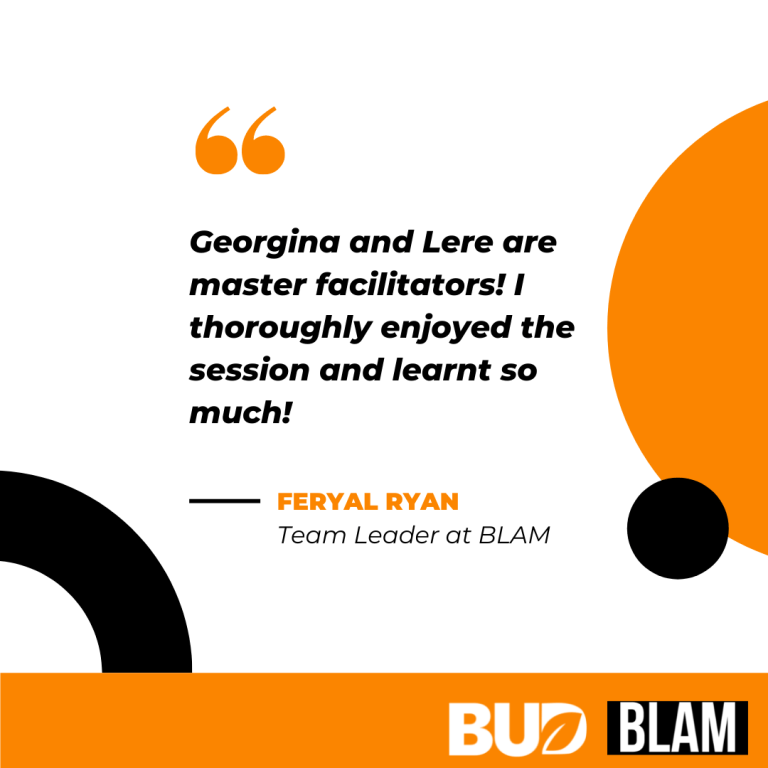 Feryal Ryan, Team Leader at BLAM, said: "Georgina and Lere are master facilitators! I thoroughly enjoyed the session and learnt so much not only about the team but also about myself. The activities they devised provided us the perfect opportunity to be open, transparent and critical without judgement. 
"I loved the informal (almost 'family' like) vibe they brought to the room. I highly recommend BUD Leaders to anyone looking to bring about transformative change to their organisation's structure, culture or management".
Project worker Eve Doran said: 'I really enjoyed the session, too often when external facilitators come to speak about the organisation structure it can be so dry but this was really fun, I didn't know these sessions could be so enjoyable. 
I felt engaged throughout and was much better able to retain everything I had learned' 
If you'd like to learn more about BLAM, or access free educational resources, you can visit their website here, and to keep an eye out on future BUD projects here.